For free legal help about birth injuries, call: 800-392-4529
A birth injury is defined as any type of damage to an infant's body before, during or just after birth. Complications in the process of pregnancy, labor and delivery can result in a wide variety of complications for a newborn baby. Statistics show that approximately 27 of every 1,000 births in the United States result in a birth injury.
Victor Pribanic: An Accomplished Birth Injury Lawyer
Some common types of birth injuries include skin irritations, temporary paralysis, fractured collar bone, fractured arm, cerebral palsy, brain damage, Erb's palsy and brachial plexus injuries. The most serious injuries involve damage to the infant's head, causing brain damage, traumatic brain injury, seizures and mental retardation caused by oxygen deprivation or bleeding inside the brain resulting from trauma during pregnancy, labor or delivery.
In handling birth injury cases, the attorneys at Pribanic & Pribanic work diligently to determine whether medical negligence played a role. Our team has a history of achievements, especially with cerebral palsy and Erb's palsy cases.
Cerebral Palsy
Cerebral palsy (CP) is a permanent disabling condition that affects the brain and central nervous system of a newborn or young child. There are many known causes of cerebral palsy. In some cases, CP can be prevented with timely medical treatment. A child born with cerebral palsy faces a lifetime of hardship and expensive medical needs. In handling cerebral palsy cases, our attorneys work to assess the needs of the child today and for his or her life.
Erb's Palsy -or- Brachial Plexus Injury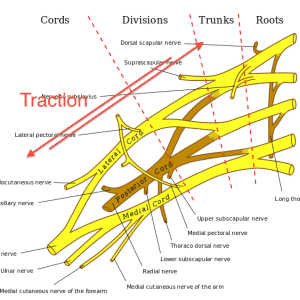 Erb's palsy, a paralysis of the upper brachial plexus, is sometimes referred to as brachial plexus injuries or Klumpke's palsy when it is a lower brachial plexus injury. The brachial plexus is a network of nerves that runs from the spinal cord, through the shoulder. When the brachial plexus is damaged during birth, the child may suffer permanent damage or paralysis of the arm and hand. While many Erb's palsy (brachial plexus injuries) cannot be avoided, some are the direct result of negligence on the part of obstetricians and other medical professionals.
There are many "natural" circumstances wherein oxygen deprivation can occur during the labor and delivery process. However, there are also many circumstances wherein brain damage or brain injuries are caused by mistakes made by doctors, hospitals or other medical professionals during the delivery process. Examples of such circumstances are:
A delay in performing a necessary cesarean section delivery

Complications because of VBAC (vaginal birth after C–section) delivery resulting in uterine rupture

Use of excessive force during delivery

A miscalculation in the size of the baby, causing a traumatic delivery
Unfortunately, doctors and hospitals will almost never admit fault or offer to pay reasonable damages to cover even the least likely economic loss from an injury. Appropriate discovery is essential to knowing whether you have a legal case, and what the likely lifetime costs associated with any permanent injury will be.
You Want The Top Birth Injury Law Firm In Pittsburgh For Medical Malpractice
What other types of injuries has Pribanic & Pribanic handled?
At Pribanic & Pribanic, we handle a wide range of birth injury cases for clients from the Pittsburgh area, throughout western Pennsylvania and nationwide. Our lawyers will work with you personally to help you explore your legal options during this difficult time. Contact us today online or by telephone at 800-392-4529 to speak with an experienced Pittsburgh birth injury attorney.
Contact our firm today by calling 800-392-4529 to speak with an experienced birth injury lawyer.