WARNING: Recalled IKEA Dressers Can Tip Forward & Crush Children
IKEA has recalled 36 million chests and dressers sold until June 2016 in the U.S. and Canada after another child was fatally crushed by a falling Malm dresser. In February, Janet McGee lost her 22-month-old Ted, whom she found underneath the tipped-over piece of furniture.
According to a June 29th report by Reuters, recalled IKEA products have now been linked to the deaths of six children. The company is being sued for at least two of those deaths, both of which occurred in 2014.
In February 2014, two-year-old Curren Collas, died when a six-drawer Malm chest fell on top of him in Pennsylvania. Three months later, 23-month old Camden Ellis lost his life four days after a fatal tipping incident in Washington state. The parents are suing IKEA for wrongful death, claiming the company sold furniture it knew to be unstable.
It took IKEA over a year after the boys' deaths to issue its first warning in July 2015.
Now it's July 2016, another year and yet another fatal tipping incident later, which has prompted IKEA to issue an urgent second warning and massive recall. Recalled models include the MALM 3-drawer, 4-drawer, 5-drawer and 6-drawer chests. Other recalled models are listed on the IKEA website at www.IKEA-USA.com/saferhomestogether.
If you have a recalled IKEA dresser in your home, please keep children away from the unit if it is not securely mounted to the wall. IKEA is offering refunds and free mounting kits.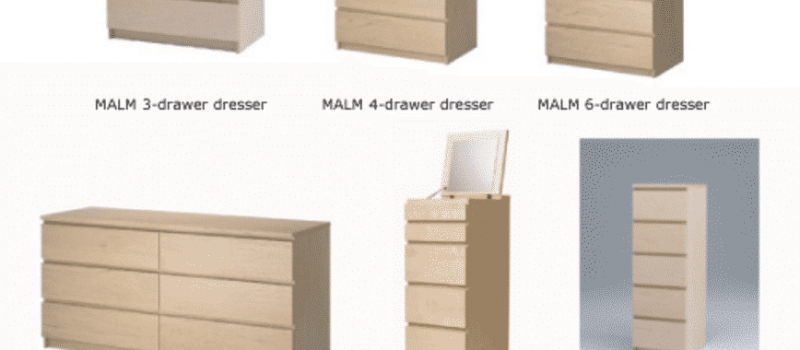 Personal injuries that can occur due to tipping IKEA furniture range from head injury, neck injury and traumatic brain injuries to crushed limbs, loss of consciousness and cuts.
If your child has been injured by a falling dresser purchased at IKEA, please contact the personal injury lawyers at Pribanic & Pribanic for a free consultation. Our in-house medical team will immediately evaluate your claim